5000+ positive coffee reviews! USDA Certified Organic wholesale coffee in ground or whole bean format plus eco-friendly single serve. Visit Shop Jo for Wholesale Bundle pricing.
SHOP WHOLESALE
Eco-friendly single serve for Keurig® brewers in 12 cup cartons and in Jo Case Pack cases. EcoPod cups use a filter-cup technology allowing the coffee to blossom without a plastic cup.
SHOP WHOLESALE
Eco-friendly recyclable Fresh Seal Cups for Keurig® brewers in 24 cup cartons and in Jo Case Packs provide rich full extraction and long-term freshness. Perfect for home, office coffee, in-room hotel buyers.
SHOP WHOLESALE
Fresh roasted and highly rated certified organic whole bean, organic ground coffee, organic K Cup® coffee at wholesale prices for coffee shops, office coffee, bistros, cafes, restaurants, churches or retail grocery. For a business or organization that offers coffee, upgrade to the Jo Coffee® brand with proven consumer satisfaction! Build your own mix & match Wholesale Bundle with cases of any of our 2 lb, 12 oz or eco-friendly single serve for Keurig brewers. Special order ground portion/filter packs available.
With over 5000+ positive S reviews our Jo Coffee® brand is one of Amazon's highest rated certified organic coffee brands. If you add in coffee reviews from their Seller Feedback system it is closer to 10,000. Not all coffee is created equal. In today's world, consumers not only vote with their wallet but also with their online reviews. Consumers respond to high quality. Discover the difference!
Free samples are available to cafes, bistros, coffee shops and restaurants. Samples for other established brick & mortar businesses such as offices may be available depending on the size of the business. If you qualify please contact us with details about your business and make sampling arrangements.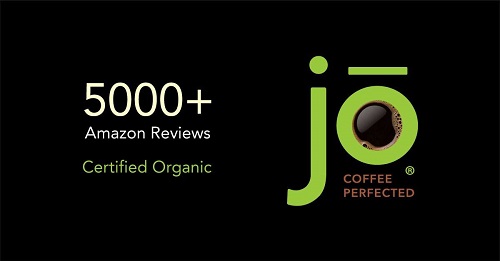 Products
Our Jo Coffee® is USDA and Kosher Certified Organic coffee. We offer single serve, 12 oz. and 2 lb. packages in whole bean or ground formats for immediate wholesale purchasing on this website. Contact us for ground portion/filter pack special order packaging.
Our eco-friendly Filter Cup single serve for Keurig K-Cup® 1.0 and 2.0 brewers provides superior brewing extraction resulting in a better cup of Jo. These filter cups are also better for the environment with less packaging waste.
We also produce a recyclable Fresh Seal Cup single serve cup for Keurig K-Cup® 1.0 and 2.0 brewers providing extended freshness and a great cup of Jo. This single serve packaging is perfect for home use but also for office coffee. Fits all display racks required for office coffee and in-room coffee service programs.
Our SingleCup Jo for K-Cup® brewers were the first USDA Certified Organic produced in the Midwest. Our SingleCup Jo cups are compatible with Keurig K-Cup® brewers, including Keurig 2.0, and other single serve brewers.
Restaurants, Bakeries, Coffee Shops & Cafes
For food service businesses such as coffee shops, cafes, bakeries & restaurants that want a compelling, highly rated certified organic, and proven successful brand at wholesale prices, our Fair Trade Certified Organic coffee will impress your customers. Our popular 2 lb whole bean format or ground format perfect for restaurant drip brew systems, provides the highest quality at competitive wholesale coffee prices.
Variable size net weights, ground portion packs, are available for special order custom wholesale accounts. Contact us for pricing.
Office Coffee & Hospitality
Our popular 2 lb ground or whole bean packaging is perfect for office coffee drip brew system, for office coffee buyers seeking highly rated organic coffee at wholesales prices for their employees. Variable size net weight ground portion packs are available for special order custom wholesale accounts. Contact us for pricing.
We also produce single serve for Keurig K-Cup® brewers that fits In-Room Hotel and Office Coffee display racks. Our Fresh Seal Cup technology provides extended freshness for the best cup of Jo! Contact us for larger account pricing.
Grocers & Retailers
Our Jo Coffee® brand is now currently in hundreds of independent grocery stores across the U.S. With our incredible success on Amazon, we choose not to offer our Jo Coffee® brand to certain large distributors thus giving independent retailers and grocers some exclusivity. For grocers, the Coffee® eye-catching package design provides certified organic coffee that customers love. Consumer response to this brand identity to buy, and our artisan quality to get them to buy again, is tremendous. Branded weekender floor displays for promotions and bulk coffee center display dispensers are available for qualified retailers. Free poster signage is also available. We will also offer in-store coffee demo's for larger, clustered corporate DSD account clients.
Coffee
Reviews
"I have a tasted a lot good things throughout my chef career. You guy's rock, keep up the great work that you do, and I will continue to spread the good word..." (Anthony Rella, Executive Chef, Ridgeview Medical Center)
"NO FUN JO DECAF is wonderful! We are a small hotel and have Keuring coffee makers in all of our rooms. We provide the kcups too. Our guests love the JO Coffee products. Also there ship time is amazing!" (Robert, Dunvilla Inn)
"Just wanted to send a quick note of appreciation. We are so happy with the way your team has been working with us to quickly supply AMAZING coffee. You all ROCK! We picked up an order last week and got a chance to chat with a couple of the guys in back - what a great group of people! People are loving the coffee and word is spreading fast. We look forward to some very exciting times in the near future!" (Nick, Private Label Coffee Client)
"I just want to reach out and say thank you Shelly, Kevin and specialty Java team for the quick turnaround on the coffee. Looks and smells great! The client in Chicago is excited to get it for this weekend! If sales go well they're going to order more on Sunday. You are such a great vendor for us and we really appreciate you so much. You have always done an excellent job for us. Thank you for our partnership! " ( Steve, Private Label Coffee Client)
Read 5000+ Amazon Positive Coffee Reviews and Feedback