Easy to sell! 40% plus profit! See below! Fair Trade Organic coffee fundraiser, including eco-friendly compostable pods for Keurig® brewers. Perfect for schools, sports teams, music departments, PTO/PTA campaigns, etc. See our Jo Coffee Fundraiser Product List.
INQUIRE NOW
Not all coffee is created equal. Jo Coffee® has become one of the highest rated organic coffee brands. In today's world, consumers not only vote with their wallet, but also with their online reviews. Great coffee makes people happy! Stop the junk food and sell a product people love!
INQUIRE NOW
Easy online or offline order placements for your Customers & Team Members. Editable PDF offline order forms are provided. Share your Fair Trade Organic Coffee Fundraiser unique shopping link by email, text or social media for instant sales!
INQUIRE NOW
Over 86% of households already purchase coffee and is rising fast with the shift to work-from-home employment. Offer something they actually desire! It's time to stop the cookies, candy, and junk food.
Coffee buyers tend to purchase over and over! With a Jo Coffee Fundraiser we provide you a powerful and free capability to instantly promote repeat campaigns to all your online customers.
Running a Jo Coffee® Fundraiser is truly simple:
Promote your fundraiser campaign message, shopping link or order form by text, email, social media or face-to-face.
You can use manual offline order forms if you prefer. However, Team Members can take place orders online also, just like a Customer. This way the Coordinator receives an instant email confirmation. The customer pays you directly.
After the end of your campaign, all orders are produced & shipped to your designated address. The shipment includes a packing slip for each online customer order for easy unpacking and distribution.
OPTIONAL: For convenience, we can send custom email messages on your behalf to your online customers about pickup dates, location, changes, etc. We can also promote future campaigns.
| | |
| --- | --- |
| Retail Product | Your Profit |
| Whole Bean or Ground Coffee - 12 oz. Bag | $5.50 |
| Whole Bean or Ground Coffee - 2 lb. Bag | $11.40 |
| Compostable Pods for Keurig Brewers - 12 ct. Carton | $5.00 |
| Recyclable Cups for Keurig Brewers - 24 ct. Carton | $8.00 |
| Capsules for Nespresso Brewers - 40 ct. Carton | $12.80 |
With a 40% profit margin, and very powerful repeat campaign capabilities, you can build your own repeat customer base providing an ongoing funding stream. Teach your team members real-world skills including marketing, communications, technology, organization, customer service, and a work-ethic that will last a lifetime. You can be confident your fundraising customers will think of you and your fundraiser with every cup of Jo. There are no setup fees, no minimums and no risk.
Fair Trade Certified Organic Coffee
USDA Certified Organic coffee is a healthy choice! Scientific study after study demonstrates the health benefits of pure clean coffee. Our entire Jo Coffee

® line is USDA

Certified Organic, Fair Trade Certified and Certified Kosher. Download our Jo Coffee Fundraiser Product List.
Fair Trade Certified coffee is also an ethical fundraiser choice! As you raise money for your school or civic fundraising cause, you will also help small coffee farmers, the farm workers, and the environment at the same time. Every purchase matters!
We offer two formats of eco-friendly single serve for Keurig K-Cup® type brewers. In our fully compostable TruPur Pod filter pod technology, the coffee blooms providing superior flavor extraction. Our eco-friendly Fresh Seal Cups are recycleable providing long-term freshness packaging.
We offer ten different organic coffees packaged 12 oz and 2 lb sizes, available in in whole bean and ground coffee format.
Optional CoBranding Fundraiser Labels
This is a great way to add a personal touch to your packaging! Co-brand with your own custom Fundraiser Logo Label to each package! Contact us for details.
Interested? Click Inquire Now and we will email you the fundraiser program information without any obligation. Call and be setup in 5 minutes. Download the product list below to share with your fundraiser decision team.

♦ 40% Profit! Download Our Product List: Jo Coffee Fundraiser Product List
♦ Increase Your Fundraiser Success: 9 Tips To Increase Fundraising Sales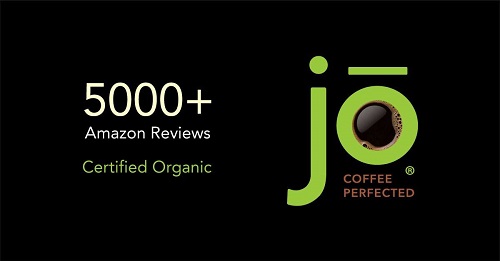 Coffee
Reviews
"We have partnered with Jo Coffee for each of the last two years for our fall fundraiser; selling over $9,000 worth of coffee and raising over $4,000 for our school. Shelley was very helpful, responsive and good to work with. The coffee was high quality and very well received by both our school families and at our church sale!" (Terry Dennelly, St. Patrick's School
"Our last year's coffee fundraiser was so successful we're planning to do it again this year!" (Sharon Elstein, Magruder High School
"Our tennis team found the Jo Coffee fundraising easy and profitable. Selling points included the coffee is great tasting, Organic and Fair Trade Certified. Customer feedback was excellent." (Jeff Martin, Westonka Boys Tennis
"We loved working with you, and loved your products! (A matter of fact I have had your coffee on my amazon subscription ever since purchasing it with you through this program and I know a few of the parents have said the same!) We are looking forward to working with you again and adding this fundraiser to our calendar!" Chelby Benson, Woodridge High School