Our Fair Trade Certified Organic coffees, are sourced world wide by a team of Certified Q-Cuppers. We never accept low commodity grade. We strive for perfection in every hand-crafted artisan roast.
SHOP NOW
With over 10000+ positive reviews, Jo Coffee® is one of Amazon's highest rated organic coffee brands. In today's world, consumers not only vote with their wallet, but also with their online reviews. Discover the difference!
SHOP JO ON AMAZON
SHOP NOW
Who Is Jo?
Specialty Java Inc. originally started the Jo Coffee® Certified Organic coffee brand in 2013 to serve the growing demand for gourmet coffee lovers shopping on Amazon. With over 10,000 positive coffee reviews, the brand has been an incredibly huge hit with Amazon Prime shoppers throughout the United States, with many of our organic coffee products top one percent sellers in each respective coffee category. It is now one of Amazon's highest rated organic coffee brands. Our phenomenal growth on the Amazon marketplace continues, especially with the recent shift to home coffee brewing from more work-from-home employment.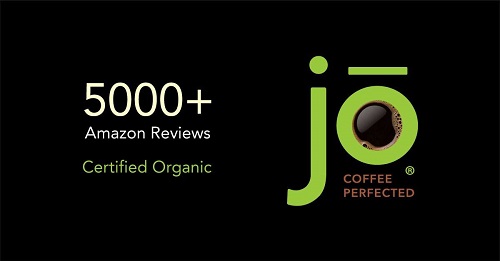 We are proud to offer USDA Certified Organic Coffee, Fair Trade Certified, cRc Kosher Certified, NON-GMO Coffee and we also recognize and give honor to the many small coffee growers around the planet who simply cannot afford expensive certification. Download our Jo Coffee Retail Product List. In all our coffees, we buy only the finest, highest grade specialty green coffee from around the world and provide these precious coffees under our various brands, including our Jo Coffee brand.
Jo Coffee® is a registered trademarked brand and subsidiary coffee business of Specialty Java Inc., (Founded 2002) and is a member of the Specialty Coffee Association of America, The Roaster's Guild, Rainforest Alliance, Fair Trade USA and Slow Food USA. Specialty Java Inc. produces several popular control brands (Jo Coffee®, Kick Coffee™, Specialty Java) and many successful private label coffee brands of gourmet specialty coffee, utilizing state-of-the-art private labeling systems. We offer a variety of custom roasting/packaging options including Private Label Single Serve for Keurig K-Cup® brewers. Our SingleCup Jo for K-Cup® brewers were the first certified organic, NON-GMO, eco friendly single serve, produced in the Midwest. The Jo Coffee® bagged lines are produced in our smallest artisan micro roastery and are roasted and shipped on demand.
Amazon's open-door policy for artisan brands has been a game-changer. With Amazon, consumers get to choose what they want from a huge marketplace of products, not just what is offered on a shelf by some large corporate category buyer in traditional brick & mortar retail stores. In the Amazon open-market format, high quality products will rise to the top by product reviews, so a small business can compete against large businesses. Amazon's customer-centric business model has truly changed the world.
Besides direct to consumers, we supply select grocery stores, with direct store distribution accounts with a flexible mix & match program. We do work with very select grocery distributors. However, with our massive success on Amazon, we are truly blessed to not have to accept the predatory tactics that many large grocery chains perpetrate on artisan producers. Amazon's rapid direct-to-consumer distribution and large scale results in very rapid inventory turns (days not months) through their amazing FBA distribution system. This keeps our coffee fresh and drives high quality reviews. Amazon is forcing the world to change their ways.
Coffee
Reviews
"We think this is the best coffee we've ever had." ( Joan Meyer Beatrice, NE )
"Great coffee! Great Service! What else can I say? 5 Gold Stars all around!" ( Don Cannon Snoqualmie, WA )
Thank you for selling delicious java!!" (Carol RoJeune Rollins-Monroe Denver, CO )
"You guys are great and your coffee is awesome!" ( Randy and Judy Lightfoot Petosky, MI )
Read 10000+ Amazon Positive Coffee Reviews and Feedback