Our Jo Coffee® brand is one of Amazon's highest rated certified organic coffee brands in the United States. Many of our organic coffee products are top one percent sellers in each respective coffee category.
SHOP AMAZON JO
In today's world, consumers not only vote with their wallet, but also with their online reviews. Consumers respond to high quality and it's the opinion of the consumer that really counts. 10000+ positive reviews speak for themself.
SHOP AMAZON JO
Not all coffee is created equal. Great coffee literally makes people happy and puts a smile on their face. You too will experience the Jo Coffee® difference when our cup of Jo touches your soul.
SHOP AMAZON JO
The Jo Coffee® Certified Organic coffee brand was originally started to serve the growing demand for coffee lovers shopping on Amazon. It turns out, the brand has been an incredibly huge hit on Amazon throughout the United States. Our growth on the Amazon marketplace continues well over 50% annually.
We offer select Jo Coffee® products on Amazon. However not all our money saving Jo Six Packs are available on Amazon. Our higher volume Wholesale Bundles program is only available here on our Jo Coffee website.
We encourage you to take a moment to post your own coffee review for any of our Jo Coffee® products on Amazon too.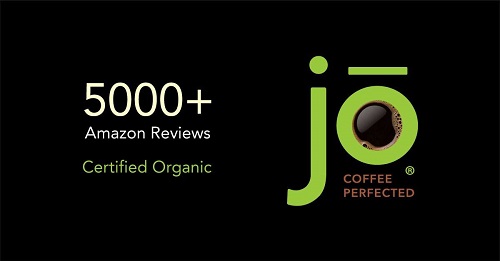 Fair Trade Certified Organic Coffee
Coffee
Reviews
"With 100's of gourmet coffees available online these days, you really just have to "roll-the-dice" when trying a new one. So glad we tried this Jo brand we found via Amazon. My wife and I like a strong blend, which is how this blend is described on Amazon. So we made a quick 6AM 1/2 pot when we got this bag of Wild Jo dark roast. It delivered! Nice & smooth with a rich, full flavor. And for the record on my review... this is NOT one of those reviews written because the seller gave me free or discounted product. I wrote this review because I'm a coffee snob, (and I know good coffee from bad) and drink coffee from all over the world, and this Wild Jo delivers a really nice full-bodied cup of coffee. " (Greg, Amazon Customer)
"Amazing "dessert" espresso. I use this in my Jura a9 and the coffee/espresso it produces is amazing. I prefer a smooth, chocolatey flavor profile for my coffee and espresso so this blend definitely hits the mark. It's smooth, sweet, and full bodied. Really good "starter" espresso for those who are trying to get into it. Easy to drink and not super complex in terms of identifying all the different notes/aromas. Crema is also really good for these beans! I haven't tried any Lavazza roasts, but we tried Stumptown, Kean Coffee, Intelligencia, and death wish before settling on Wild Jo!" (Kevin, Amazon Customer)
Read 10000+ Amazon Positive Coffee Reviews and Feedback